Oil Control Shampoo
With Bella Vita Organic Oil-Control Shampoo, indulge in the perfect dose of purification for your oily
scalp while also revitalising and replenishing your dull and lifeless hair. This formula is infused with an
all-natural combination of ingredients and is your go-to when your hair needs a refresh! Tea Tree, with
its therapeutic properties, helps to minimise excess oil production on the scalp, enhance blood flow,
and keep hair follicles healthy. Lemon serves as an exfoliator to reduce sebum buildup from the scalp
and prevents dandruff and other fungal infections. Green Tea is an antioxidant that protects the scalp
and restores its pH levels. Aloe Vera unclogs hair follicles that are plugged by excess oil, gives deep
nourishment, and soothes the scalp.
Note: This is a unisex product. Always do a patch test before using the product.
Bella Vita Organic products are created using natural ingredients so their colour and fragrance may
vary over time but will not affect the efficacy of the product.

Read more
Free Gift on Prepaid
Free Shipping*
EXCLUSIVE OFFERS
6 FOR 999

Get any 6 Bestsellers for just ₹999

3 FOR 1298

Get any 3 Perfumes for just ₹1298

HDFC5

Get 5% OFF on HDFC Credit and Debit cards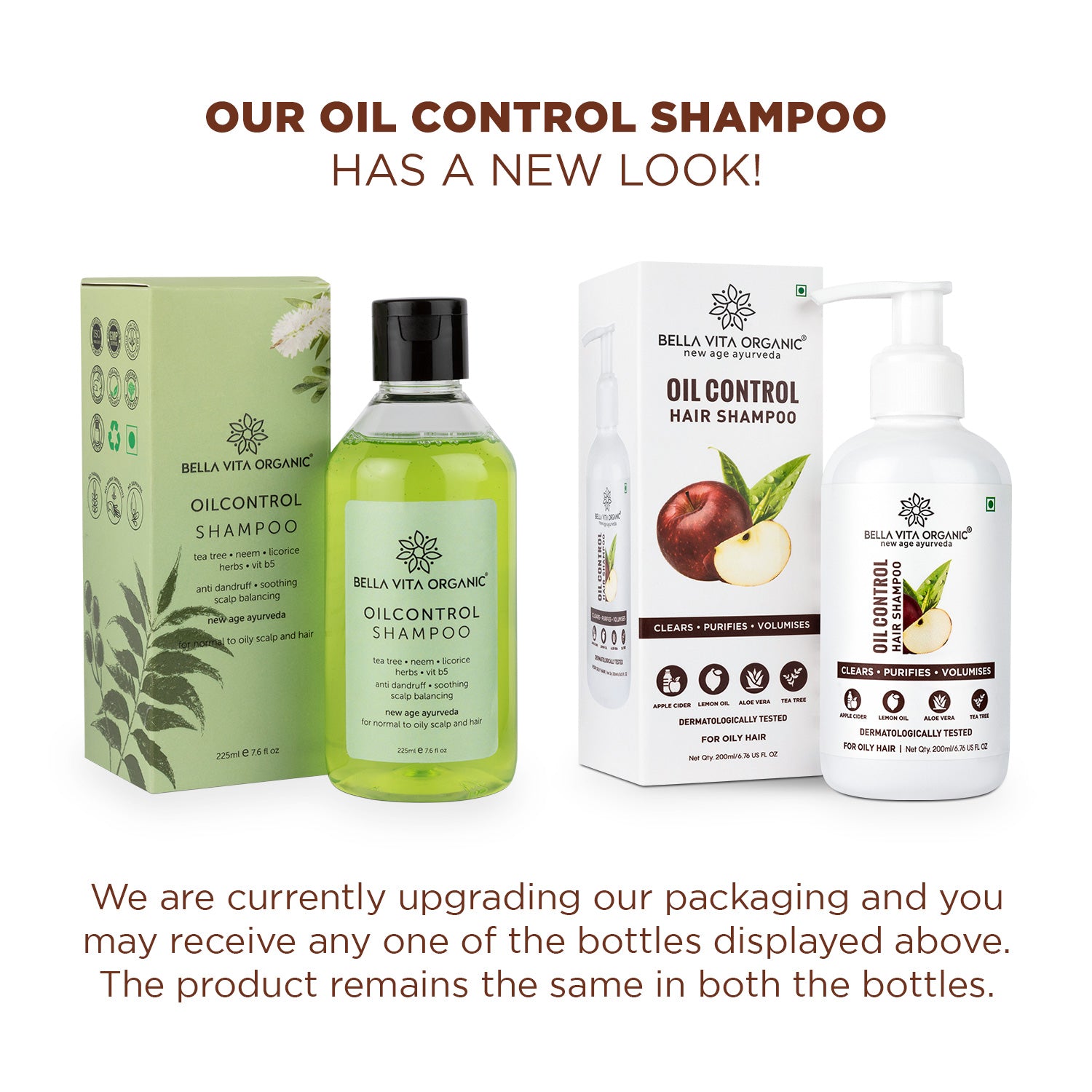 KEY BENEFITS

- Eliminates excess oil on the scalp
- Makes hair follicles healthy
- Helps to remove dandruff
- Removes excess sebum build-up from the scalp
- Cleanses and Purifies the hair and scalp
- Adds volume to the hair

HOW TO USE

Step 1 :Apply an adequate amount of shampoo to wet hair.
Step 3 :Leave it on for 2-3 minutes and then rinse thoroughly.
FAQs

I have dandruff on my scalp. Can I use this shampoo?
Yes. This shampoo is formulated using natural & Ayurvedic ingredients that help in reducing excess oil production and cleanses the dirt that leads to dandruff build-up.

How often can I use this product?
You can use the Oil-Control Shampoo 2-3 times a week, depending on how oily & greasy your scalp is.

Is this product safe to use?
As this shampoo is a blend of all-natural ingredients, it is safe to be used by teenagers and adults alike.

Is this product chemical-free?
Yes, this is an all-natural, detmatologically tested and creutly free product.
LEGAL INFORMATION

MRP ₹349.00 inclusive of all taxes

Marketed By: Bella Vita Organic
417, First Floor, Udyog Vihar Phase 3, Sector 20, Gurugram, 122008 Haryana, India

Manufactured By: Idam Natural Wellness Pvt. Ltd
417, First Floor, Udyog Vihar Phase 3, Sector 20, Gurugram, 122008 Haryana, India

Country of Origin: India
Muje bahut Acha laga tku so much
poor support
Dealing with customer support was frustrating. Long response times. Improve accessibility and responsiveness for smoother assistance.
I think you should also decide to buy it because is really useful 🙂❤️
Loving the first ever shampoo which is made from tea tree, neem,licorice herbs & vitamin B5 and it helps to solve all our hair problem ! Thanx bella vita organic for launching this amazing hair care product! 🥰 it is very important for us to deeply cleanse our scalp if we go out daily nourishing the hair is also very essential so we should regularly used a good hair growth shampoo my pick is Bella Vita organic oil control shampoo for basic hair care needs!✌️ the tea tree ,licorice herbs and with goodness of vit.b5 these essential ingredients helps in deeply cleanse the hair by removing dirt oil and dandruff and other build up too 👍🏻I have been using this product for a week now I will see very good benefits of this amazing product❤️
Helpful for oily scalp
I have oily scalp and dandruff issues. But when I started using this Bellavita organic shampoo its a natural & organic product which really helps me alot Also,makes my hair soft &smooth. I use this shampoo 2 times a week for good results. 100% organic⭐ no parabens⭐ no sulphates⭐ no harsh detergents