Fyre And Stud Deo Combo - 2 x 150ml
Skip to product information

Fyre And Stud Deo Combo - 2 x 150ml
Turn up the heat and be the STUD of your circle with FYRE and STUD Body Parfum by Bella Vita Luxury. Keep the FYRE alive throughout the day with top notes of rosemary, clary and sage. STUD is long-lasting and bold, with notes of orange, lavender and rosemary as top notes, opening with cypress, carnation and juniper berries, balanced by leather, patchouli and oakmoss.
Read more
Free Gift on Prepaid
Free Shipping*
EXCLUSIVE OFFERS
6 FOR 999

Get any 6 Bestsellers for just ₹999

3 FOR 1298

Get any 3 Perfumes for just ₹1298

HDFC5

Get 5% OFF on HDFC Credit and Debit cards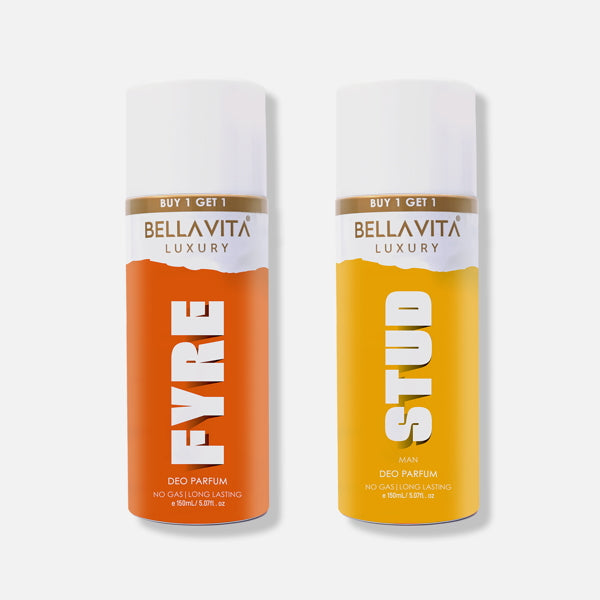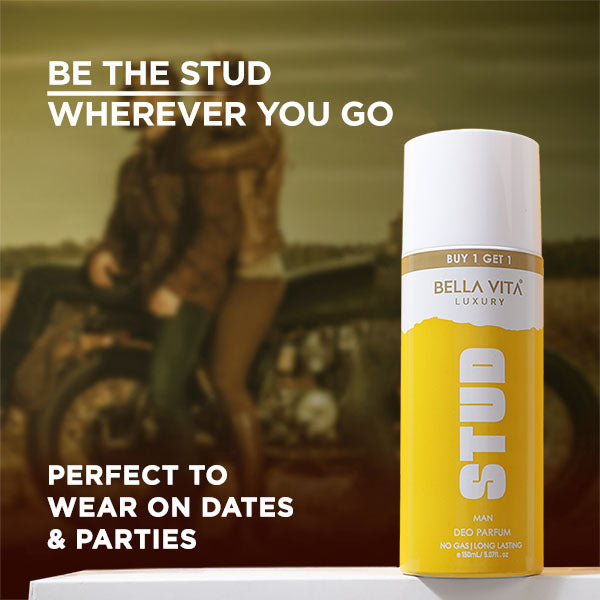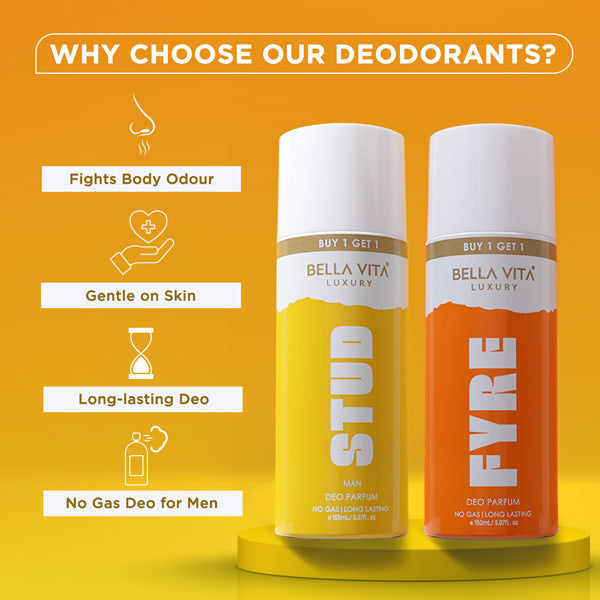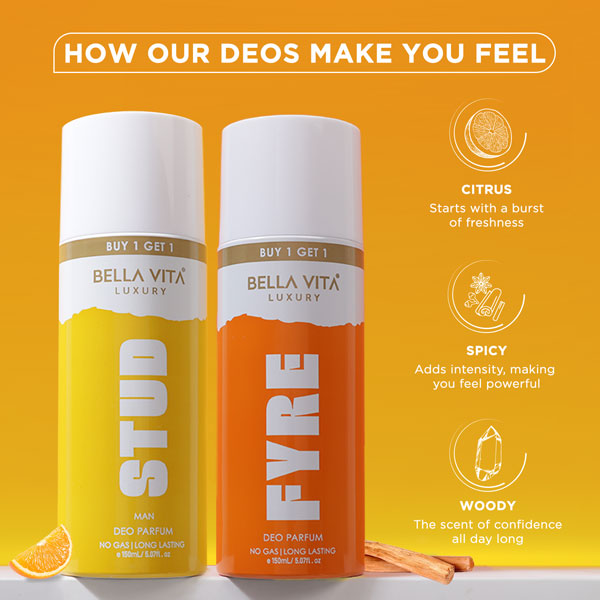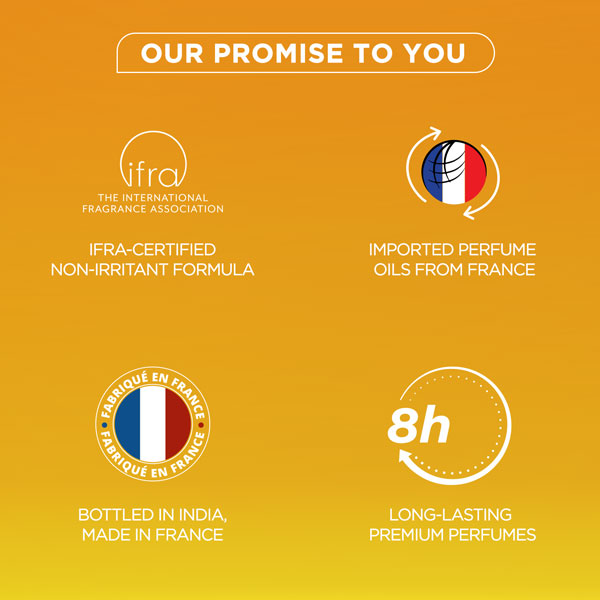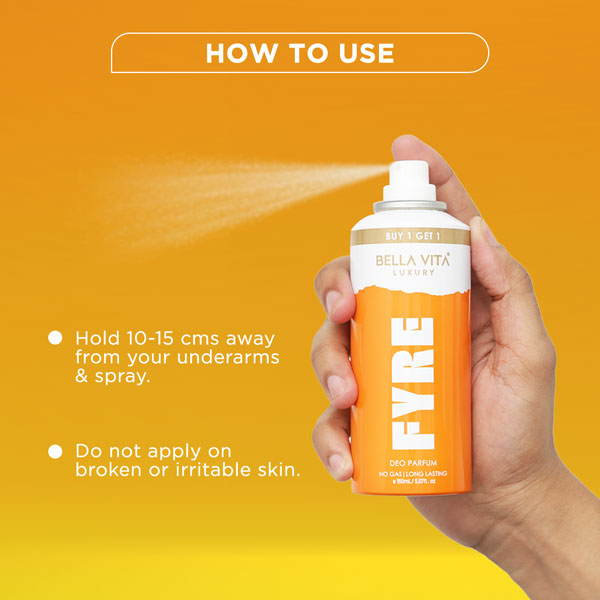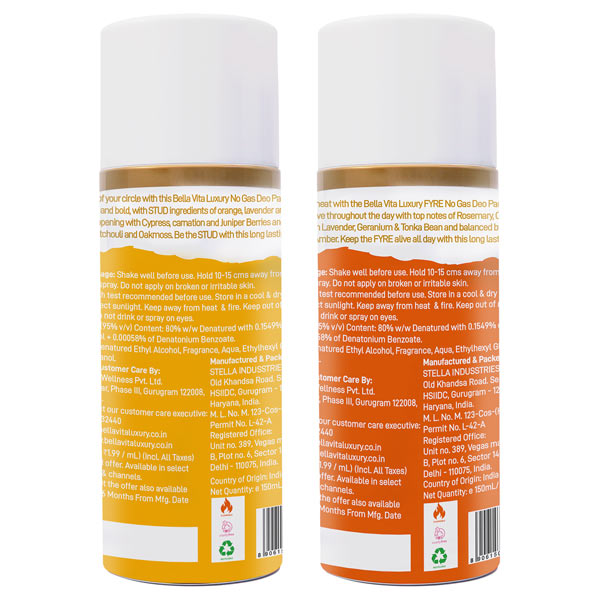 KEY BENEFITS

- IFRA-certified and Safe to Use on Skin
- Long-lasting
- Made with Imported Oils

HOW TO USE

Spray the deo on your underarms for all day freshness
FAQs

Q. Are the deodorants long lasting?
A. The deodorants stay upto 8 hours keeping body odour and sweat away and are ideal for daytime application.

Q. Do the deodorants give a similar fragrance?
A. The deodorants of this gift set are of 2 different type; FRESH body parfum and Game body parfum; each providing a different fragrance.

Q. Are the deodorants safe to use on sensitive skin?
A. Our deodorants are generally safe for most people when used as directed. However, it's essential to always do a patch test to check for any skin reactions and discontinue use if any irritation occurs.

Q: What is the alcohol and perfume oil concentration in the deodorant?
Ans. Our product contains 95% v/v and 60% w/w, which means that the alcohol purity of the product is 95% whereas the alcohol quantity is 60% with the perfume oil concentration being 8%.
LEGAL INFORMATION

MRP ₹598.00 inclusive of all taxes

Marketed By: Bella Vita Organic
417, First Floor, Udyog Vihar Phase 3, Sector 20, Gurugram, 122008 Haryana, India

Manufactured By: Stella Industries Limited
Old Khandsa Road, Sector-37, HSIIDC, Gurugram-122001, Haryana, India

Country of Origin: India
ALL INGREDIENTS

Orange, Lavender, Rosemary, Cypress, Carnation, Juniper Berries ,Leather, Patchouli, Oakmoss
FYRE and STUD Deo Combo
Fragrance is reallyy good & long lasting upto 7-8 hrs , for summer this is very best .
FYRE and STUD Deo Combo
Excellent fragrance...
Value for money
Must Buy Guys Trust Me You'll Just Love It. Fragnance is long lasting for max 12 to 16 hours...
Don't Think to Buy Just Buy It
FYRE and STUD Deo Combo
The fragrance is so good, mild & long lasting at the same time. Gives you long lasting freshness- specially good for sweaty summer days
FYRE and STUD Deo Combo
Perfects deos for this summer, my kid loves it especially the fire one since he is a fan of kohli
FYRE and STUD Deo Combo
Love these limited edition deos, using them now everyday before GYM.