Deo White Natural Roll On Deodorant For Men - 50ml
Deo White Natural Roll On Deodorant For Men - 50ml
Deowhite Roll On Deodorant for Men by Bella Vita Organic is your natural solution to body odour. Beat the heat with cooling and soothing extracts of Aloe Vera, Mulberry and Lemon oil that are not only super gentle but also highly effective on underarms. Aloe Vera soothes inflammation, mulberry has skin brightening properties and lemon oil keeps you fresh all day with its antibacterial properties. Be More active as Deowhite Roll on Deodorant is sure to keep sweat and odour away.
Read more
Free Gift on Prepaid
Free Shipping*
EXCLUSIVE OFFERS
6 FOR 999

Get any 6 Bestsellers for just ₹999

3 FOR 1298

Get any 3 Perfumes for just ₹1298

HDFC5

Get 5% OFF on HDFC Credit and Debit cards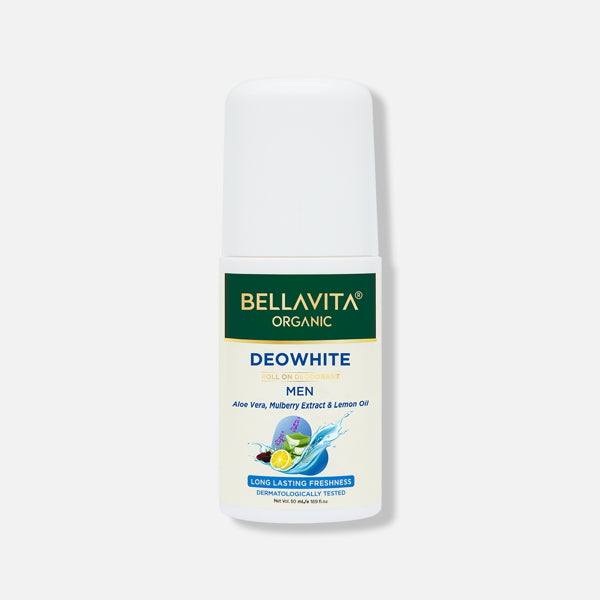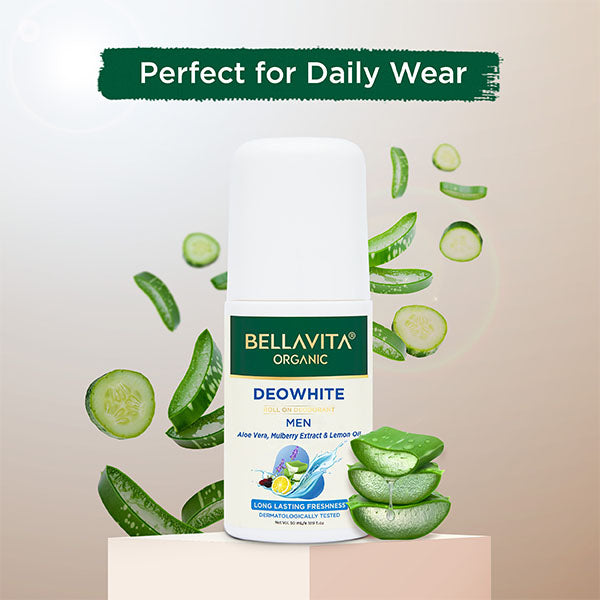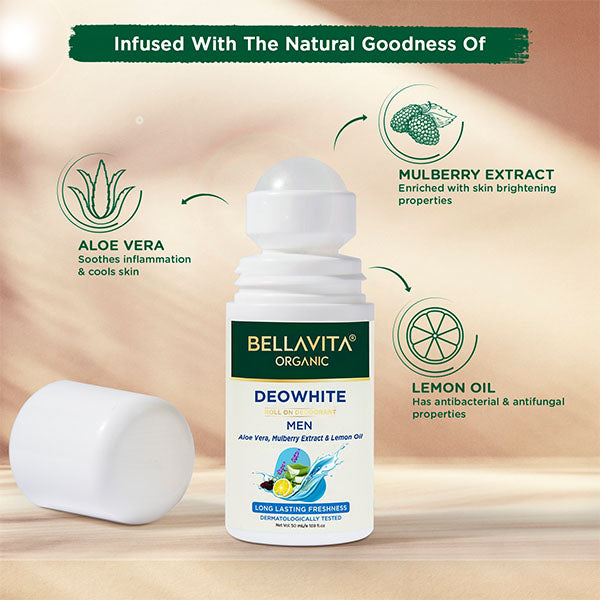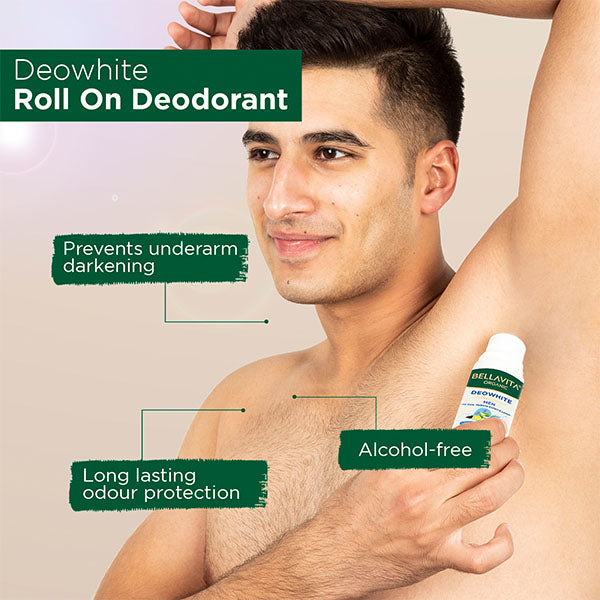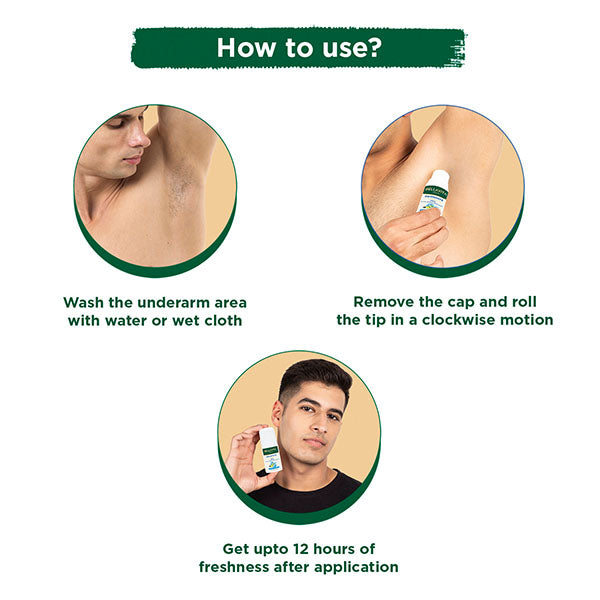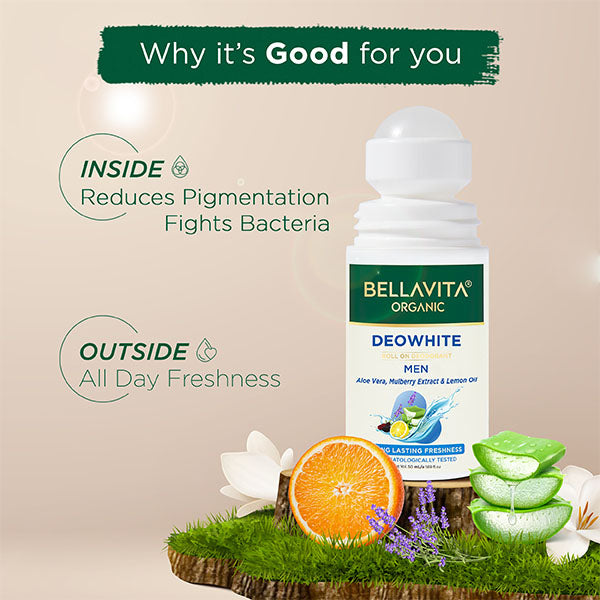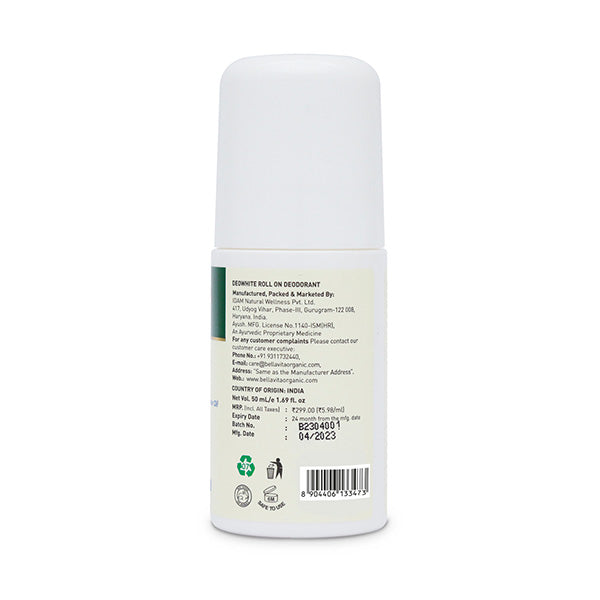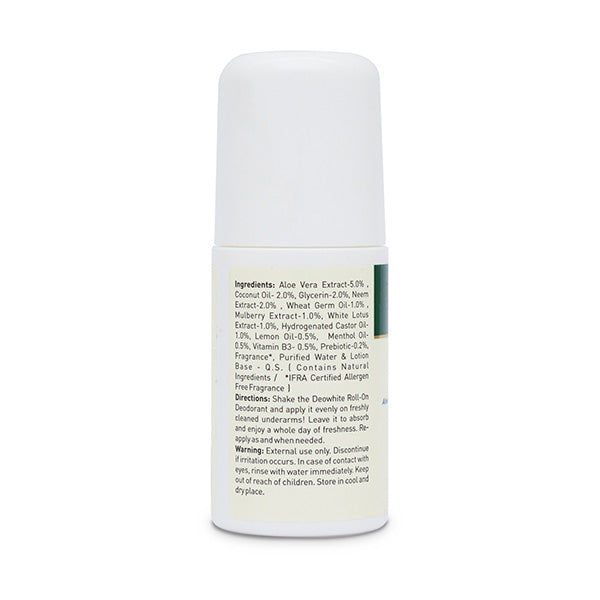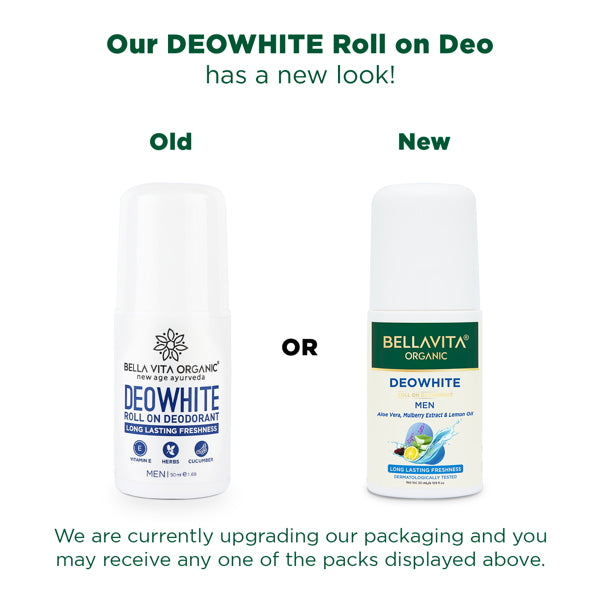 KEY BENEFITS

- Made with Aloe Vera, Mulberry and Lemon Oil
- Reduces the appearance of dark underarms
- Eliminates Body Odour

HOW TO USE

Step 1 :Wash the underarm area with water or wet cloth.
Step 2 :Remove the cap and roll the tip in a clockwise motion
Step 3 :Leave the product on the skin and let it absorb.
KEY INGREDIENTS

ALOE VERA EXTRACT

Has a cooling & soothing effect on the eyes, & prevents irritation

LEMON

It helps in reducing skin damage and soothes inflamed skin and controls premature ageing
FAQs

Is this product long lasting?
This product is designed to last you all day

Will this irritate my skin?
Given its natural base, Deowhite will not irritate your skin. That being said, you should always do a patch test before use.

Will this reduce pigmentation?
Deowhite is enriched with Vetiver, which promotes skin cell regeneration, and removes dead skin cells, all while lightening and brightening the underarm skin.

Is this a natural product?
Yes, Deowhite is a natural product.

Does this product have alcohol?
No, Deowhite doesn?t contain alcohol and will not damage the sensitive underarm skin.
LEGAL INFORMATION

MRP ₹199.00 inclusive of all taxes

Marketed By: Bella Vita Organic
417, First Floor, Udyog Vihar Phase 3, Sector 20, Gurugram, 122008 Haryana, India

Manufactured By: Idam Natural Wellness Pvt. Ltd
417, First Floor, Udyog Vihar Phase 3, Sector 20, Gurugram, 122008 Haryana, India

Country of Origin: India
ALL INGREDIENTS

Purified Water, Aloevera Extract* , Hydrogenated Castor Oil, Propylene Glycol, Glycerin, Niacinamide , Bisabolol, Hyaluronic Acid, Wheat Germ Oil* , Lemon Oil*, Menthol Oil*, Mulberry Extract*, White Lotus Extract*, Xanthan Gum, Di Sodium EDTA, Prebiotic, Fragrance**, Potassium Sorbate, Sodium Benzoate ( Natural Preservative). ( * Natural Ingredient / **IFRA Certified Allergen Free Fragrance )
My skin is quite sensitive to chemicals and most branded deodorants/body sprays are too harsh for me. The only brand that I could use safely in the past was Nivea. But even then, the fragrance would fade pretty quickly, especially on hot days. However, this roll-on is a game changer. Even though initially it took me a couple of days to get used to the feeling of applying it directly to my skin, now it's an indispensable part of my grooming routine. The fragrance is potent, yet mild and stays really long (up to 12 hrs.). But more than that, the deodorizing action is very effective and there is almost no detectable body odor even after a long day. N.B: I work in an air-conditioned lab environment and hence I can't really comment on how well the product will perform under the hot sun.
Deo White Natural Roll
This product is awesome, good fragrance & long lasting.
Long lasting with fabulous smell
I'm using this deo daily and it works great. This is long lasting enough and smells really good. Use daily and get rid of your body odor.