Love Is In The Roll-On Combo
Skip to product information
BOGO Not Applicable

Bestseller

BOGO Not Applicable

Bestseller

BOGO Not Applicable

Bestseller

BOGO Not Applicable

Bestseller

BOGO Not Applicable

Bestseller

BOGO Not Applicable

Bestseller

BOGO Not Applicable

Bestseller

BOGO Not Applicable

Bestseller

BOGO Not Applicable

Bestseller

BOGO Not Applicable

Bestseller
Love Is In The Roll-On Combo
🌟 Our Deo roll on is your go-to solution for dark underarms! ✨
A pack of two, the Love Is In The Roll-On Combo is perfect for Men Women and a must-have addition to your AM self-care regime. 🚿
The roll ons will heal, protect, lighten, and eliminate odor. 🛡️❌
Both the Deos are long lasting, sweat resistant, and eliminate bacteria and sweat build-up, which can cause breakouts, infections, and bad body odor if not taken care of.

Wash the underarm area with water or a washcloth, remove the roll on cap, roll the tip in a clockwise motion, and let it dry.

Note: Always do a patch test before using the product.
Bella Vita Organic products are created using natural products so their colour and fragrance may vary over time but will not affect the efficacy of the product.
Read more
OFFERS

1) 🛍️🎉 LIVE : Bella Vita Shopping Festival with Buy 1, Get 1 Sitewide + Free Gift on Prepaid Orders*! 🎁✈️

2) Stand a chance to win a fully paid trip to Dubai, an iPhone 15 Pro, and a brand-new Royal Enfield bike! Shop more, win more! T&C apply.

3) Get Additional 5% off on your purchase with HDFC Bank Debit and Credit Cards! Use Code HDFC5 at Payment Method Offers during checkout!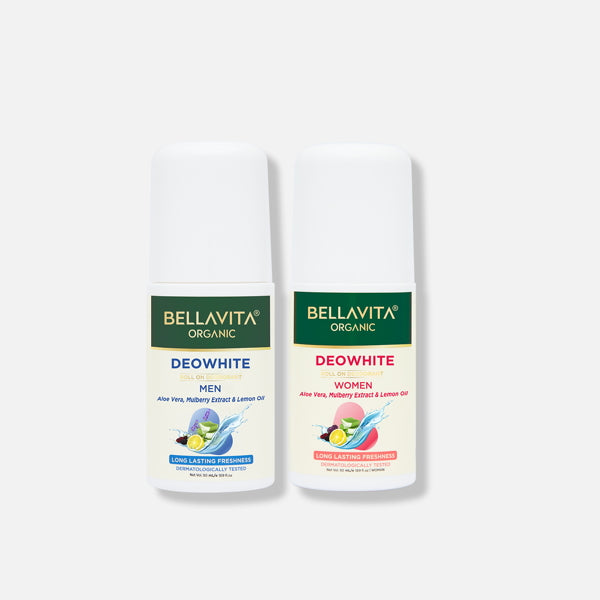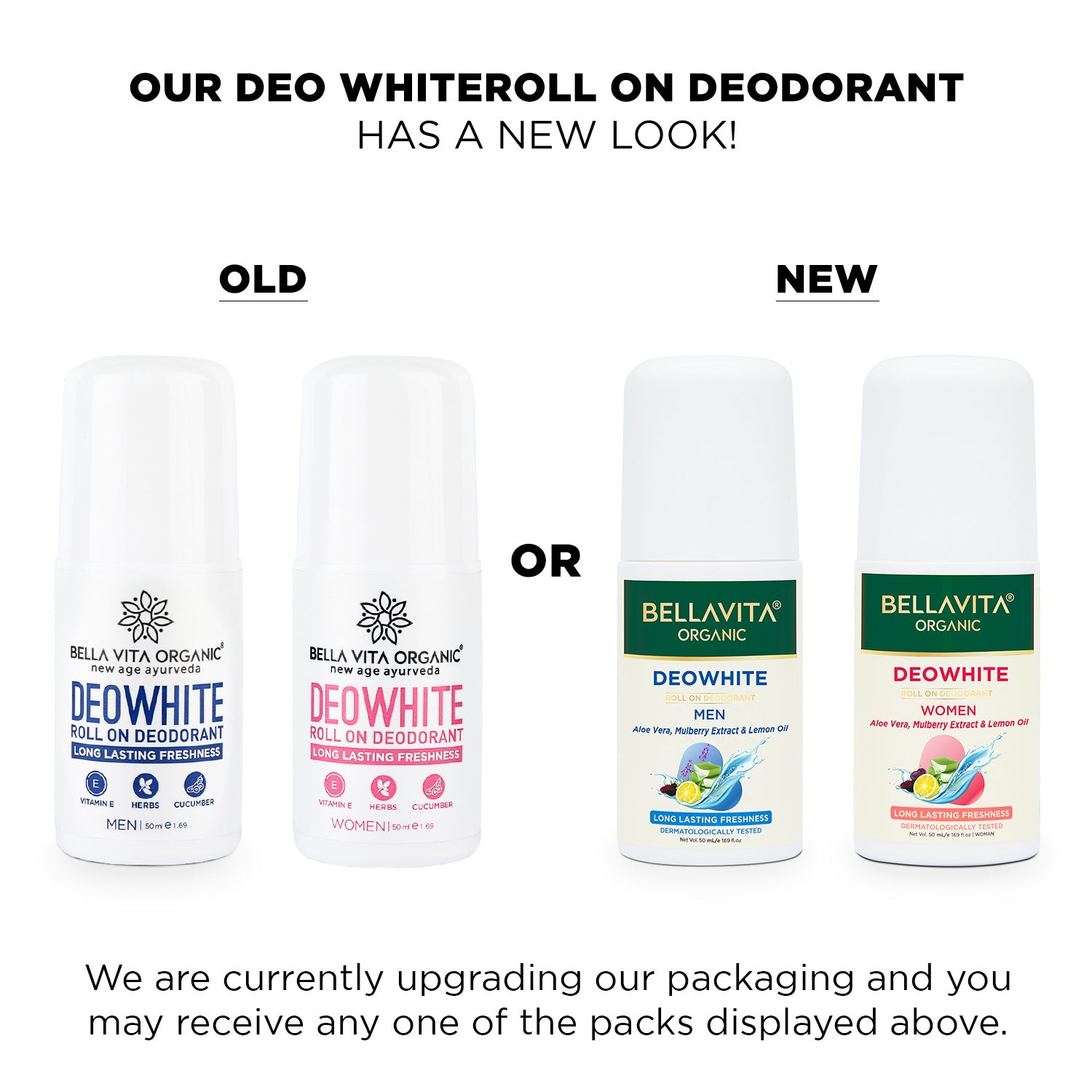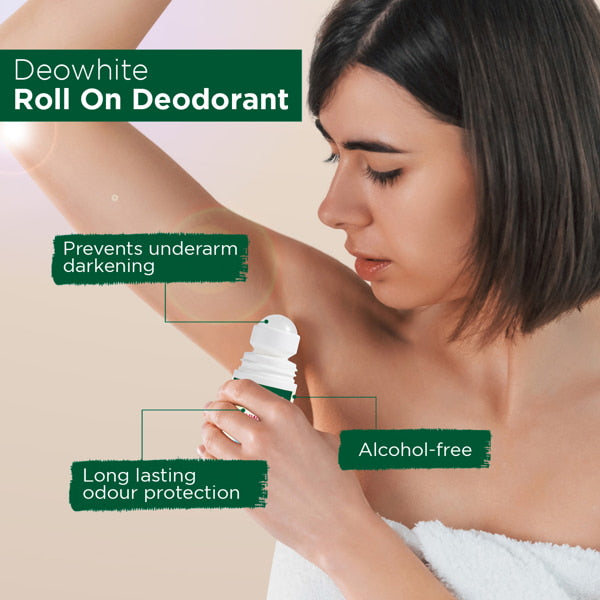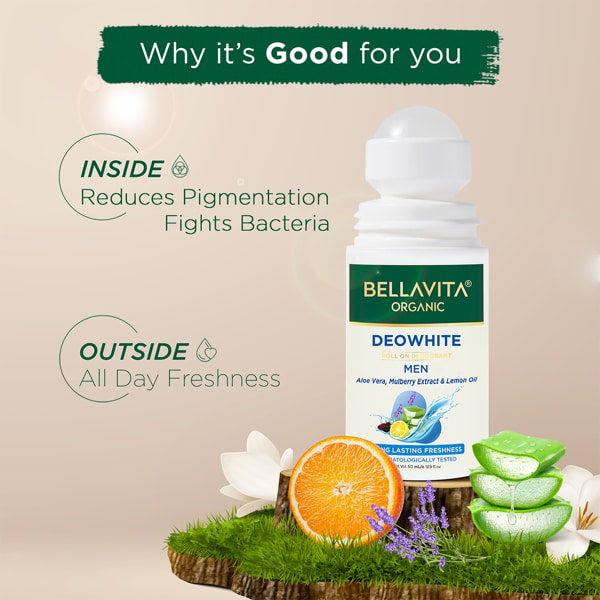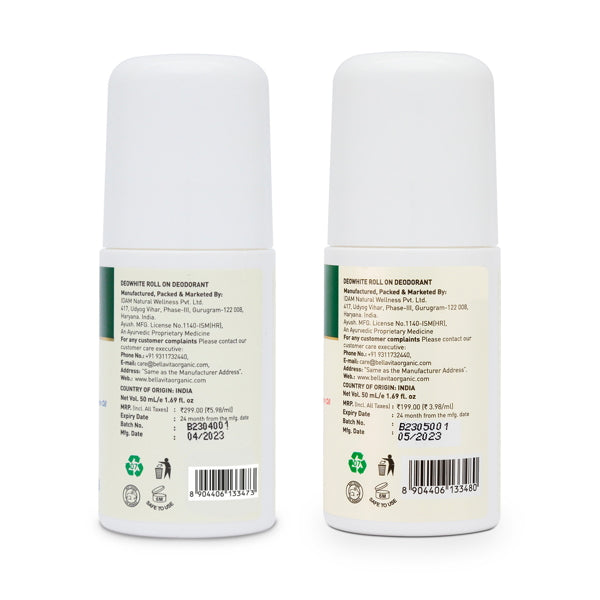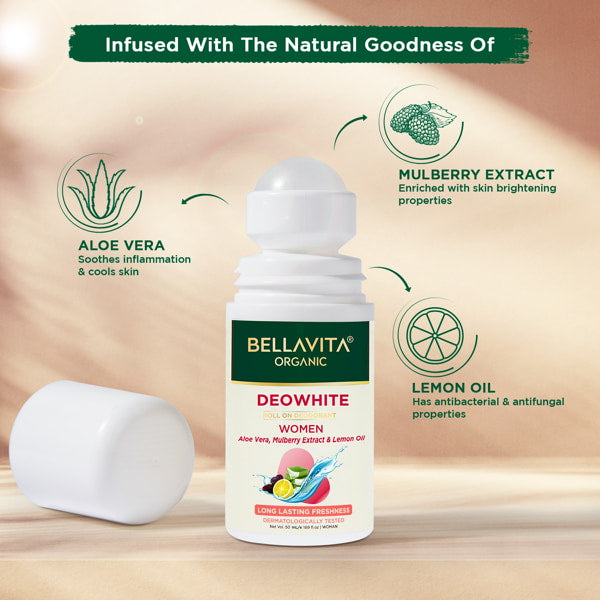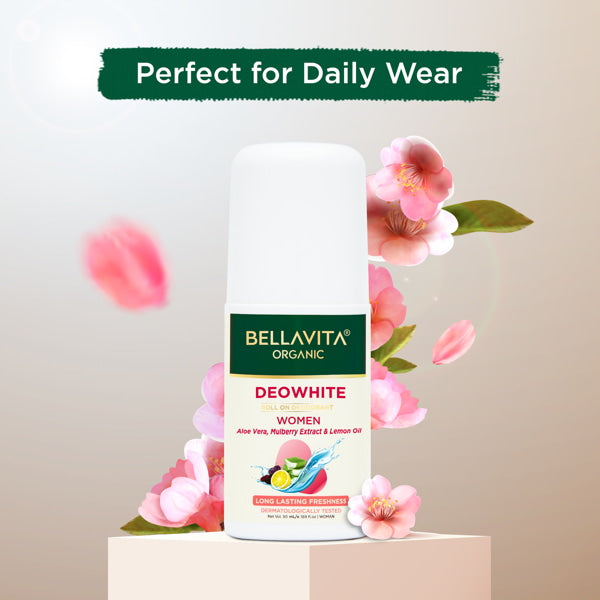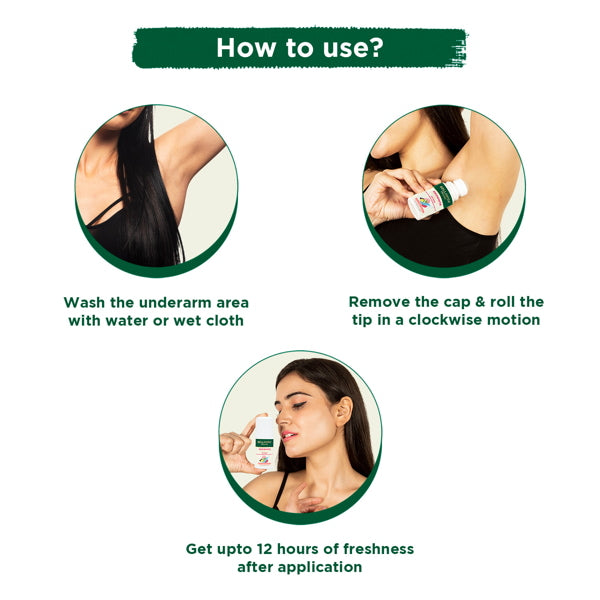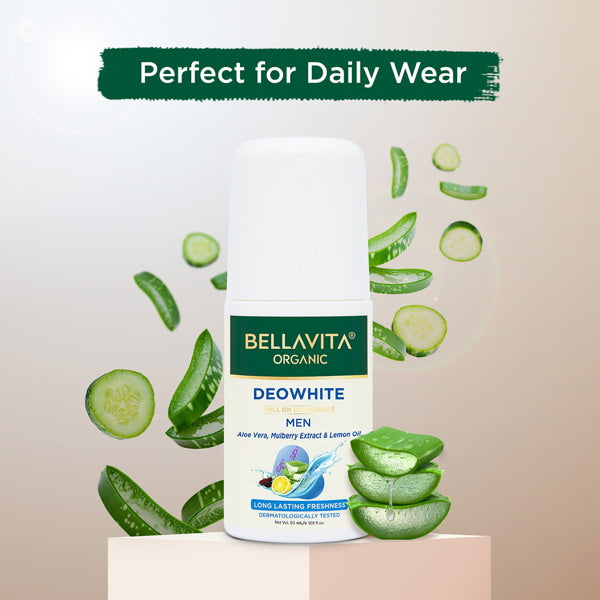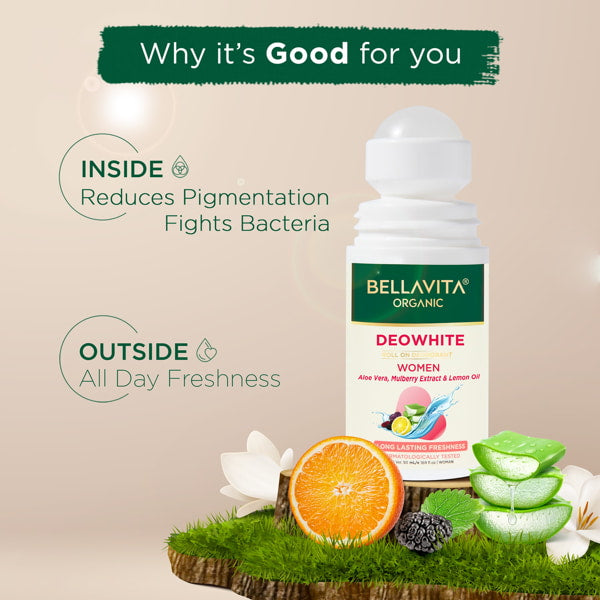 KEY BENEFITS

- Lightens underarm skin
- Long Lasting odour protection
- Alcohol free

HOW TO USE

Step 1 :Wash the underarm area with water or wet cloth.
Step 2 :Remove the cap and roll the tip of Deo White in a clockwise motion.
Step 3 :Leave the product on the skin and let it absorb.
FAQs

Is this product long lasting?
This product is designed to last you all day

Will this irritate my skin?
Given its natural base, Deowhite will not irritate your skin. That being said, you should always do a patch test before use.

Will this reduce pigmentation?
Deowhite is enriched with Vetiver, which promotes skin cell regeneration, and removes dead skin cells, all while lightening and brightening the underarm skin.

Is this a natural product?
Yes, Deowhite is a natural product.

Does this product have alcohol?
No, Deowhite doesn?t contain alcohol and will not damage the sensitive underarm skin.
LEGAL INFORMATION

MRP ₹398.00 inclusive of all taxes

Marketed By: Bella Vita Organic
417, First Floor, Udyog Vihar Phase 3, Sector 20, Gurugram, 122008 Haryana, India

Manufactured By: Idam Natural Wellness Pvt. Ltd
417, First Floor, Udyog Vihar Phase 3, Sector 20, Gurugram, 122008 Haryana, India

Country of Origin: India
Nice
This deo is amazing. It has amazing scent, lasts long. Best roll on deo avaiable that too without SLS, parabens
After trying all the products, this deo is wonderful and it works. Its scented mild and lasts long and chemical free. Go for it.
Must buy. I love this product very much. It keeps my underarm fresh and smells good.
I would say my body odour is mediocre. I have used all types of deodorants like NIVEA, and REXONA without being aware of their harmful chemicals. When I found out about the consequences of them, I immediately stopped using them. Living in Southern India, we face higher temperatures and we sweat a lot. So I started searching for organic deodorants, and that's when I found out about Bella Vita. I have been using them for 4 months, and for a person with minimal body odour like me, it's been perfect. I did not face any major complications with this product. Despite being perfect for me, my brother who has a high body odour said that this has been helpful for him too. I am reading all the people complaining about how it doesn't last long, but it always does for us. And for the people who are getting rashes, make sure your armpits are cleaned before using this. Even after it's giving you rashes hey, no product is suitable for everyone. So I say, If you wanna stay away from harmful deodorants, I suggest you shift to this. You will understand what I am trying to say after using this product.
Been using this product for couple of years now. A mild scent. lasts a decent amount of time. and is gentle on your skin. only qualm is to throw away the plastic container.