D.I.V.A. Woman - 100ml
D.I.V.A. Woman is the ultimate scent for the glamourous. For those to whom the finer things come without trying hard. Feel Glamorous and confident to live life queen size. Wear D.I.V.A. Woman and the world will follow you.
The top notes of bergamot, black currant and orris, are hard to miss. Jasmine, caramel and lily of the valley make it exquisite and strong. The fragrance continues to linger with the base notes of vanilla, musk and patchouli.
Read more
Free Gift on Prepaid
Free Shipping*
EXCLUSIVE OFFERS
2 FOR 1599

Get any 2 Premium Perfumes for ₹1599

3 FOR 1298

Get any 3 Perfumes for just ₹1298

HDFC5

Get 5% OFF on HDFC Credit and Debit cards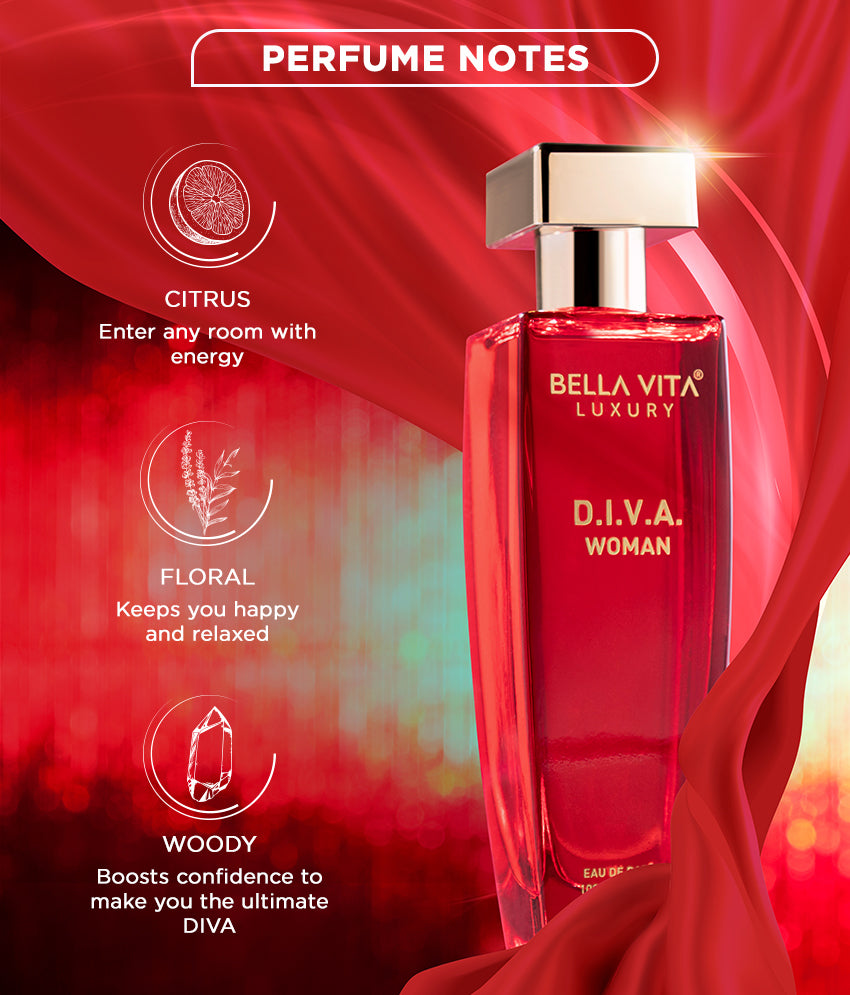 KEY BENEFITS

- IFRA-certified and Safe to Use on Skin
- Long-lasting
- Made with Imported Oils

HOW TO USE

Spray the perfume on your pulse points such as sides of the neck and wrists for all day freshness.
KEY INGREDIENTS

BERGAMOT

It serves as a vibrant note, adding a zesty and invigorating quality to the fragrance.

VANILLA

It adds a sweet, comforting, and alluring scent. It adds a touch of warmth and familiarity to the fragrance, making it both cozy and captivating.

LILY

It infuses the fragrance with a sense of innocence and natural beauty.
FAQs

How long does a perfume last?
Our perfumes frequently last up to eight hours.Due to the fact that our perfumes were created specifically for the Indian climate, you won't experience any long-lasting issues.

How should I keep/store my Perfume?
Yes, the location of your fragrance is important. It is best to keep perfume away from harsh sunshine and freezing or melting temperatures. This keeps the fragrance's shelf life and protects its quality.

How can I make my Perfume Last Longer ?
Moisturise your skin first to increase the impact of perfume and enhance the fragrance's overall quality.Perfume frequently evaporates quickly on excessively dry skin. Instead, try sprinkling it over a light coating of petroleum jelly or unscented body lotion. These moisturisers not only keep your skin smooth and supple, but they also give the perfume oils something to stick to, allowing your fragrance to last longer.

Are Perfumes made in India?
Yes, India is where our perfumes are made.French perfume oils were purchased and packaged by us in India.

Do our perfumes contain Alcohol?
The simple reply to that is "No."Alcohol consumed directly differs from alcohol used in perfumes.The alcohol used in perfumes is known as "perfumer's alcohol."It is not meant for drinking and cannot be purchased at liquor stores.As a result, we can apply! Keep your perfume on you and use it freely.

How long does a perfume usually last?
Since our perfumes have been specifically created for the Indian climate, you won't experience any long-lasting problems. Our perfumes typically last up to 8 hours. Perfume duration can also be affected by numerous elements, such as body sweat and environmental circumstances.

Does Bella Vita Perfume expire?
While perfumes never go bad, after 36 months their potency starts to fade.
LEGAL INFORMATION

MRP ₹1,099.00 inclusive of all taxes

Marketed By: Bella Vita Organic
417, First Floor, Udyog Vihar Phase 3, Sector 20, Gurugram, 122008 Haryana, India

Manufactured By: Stella Industries Limited
Old Khandsa Road, Sector-37, HSIIDC, Gurugram-122001, Haryana, India

Country of Origin: India
ALL INGREDIENTS

Bergamot, black currant and orris , Jasmine, caramel and lily of the valley ,Vanilla, musk and patchouli